ONE-STOP CUSTOMIZEING ALL KINDS OF STEEL STRUCTURE MATERIALS
Union Construction Group-located in Guangdong, China-is a large-steel structure construction group specializing in the design, fabrication and construction of steel structures. With a wide array of qualifications, including Chinese Class A specialized qualifications in both steel structure construction and fabrication, we have developed and provided 1000+ integrated steel structure solutions to its large customer base across the globe.
MOQ:
Usually at least 100 metric tons, or about 2000 square meters.
1. Read first:
1). We can one- stop supply almost all kinds of material according to your whole steel structure projects, but we DO NOT supply raw material. If you do not find the material or similar projects, feel free to ask us for help.
2). Check our "Home" page on PC or download our catalog to know more about our excellent projects.
3). Seeing is believing, welcome to take a 360° Virtual Tourour of our factory in "Home" page or "Contact us" page . Also welcome to visit our factory by yourself.
4). Feel free to contact us if you have any questions, we are here for help.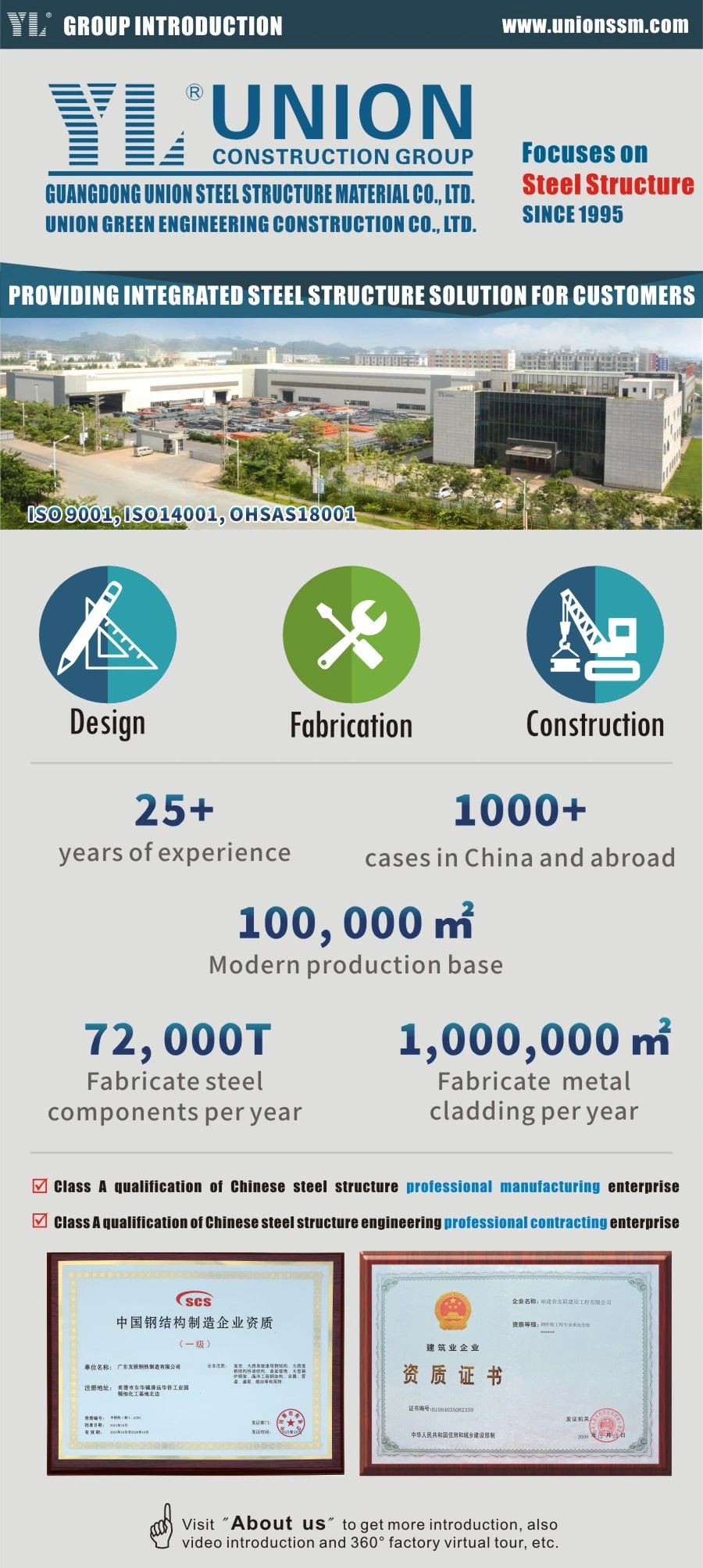 2. FAQs:
2-1. Can I use Chinese standards (GB) steel components and other kinds of material for my project?
Yes you can. Generally speaking, most Chinese standard material have equal quality but much cheaper price than other standard products. We have many orders which were designed by US codes, UK codes, Australian codes, etc., and we have successfuly supplied Chinese standards steel components and other kinds of material to them and have received high evaluation. Of course, you need to make a little revise for your structure design. It is easy, contact us to know more.
2-2. Can you tell me the things which I should do when I need a steel structure building (workshop, warehouse, etc.)
Yes, we can. But it is better to find a local consultant first. (1) Consultant company is necessary for a steel structure project, many things need to be done by them. (2) Beyond your national standards and regulations, there maybe also local Authorities standards and regulation or even rules from your industrial zone. An experienced local consultancy can save you many time and money.
Notes: Make sure that the local consultant have the related experience for steel structure projects, otherwise, it may also waste your time or even need to find an extra adviser.
2-3. How to cooperate?
Usually, our cooperation starts form quoting you an estimate price for your project, it usually include material supply, construction services are provided on your demand. To give you a more accurate estimate price, it is better to give us your structure design. Once conformed the contract and received the advance payment, we may start to build 3D model and design shop drawings, then start the fabrication, arrange the delivery, ect.
2-4. What kinds of service will you provide under material supply contract?
(1) Study of client's requirements and demands.
(2) Collect all the related documents includeing the architectural drawings and structure drawings form client for review.
(3) Build the 3D model for the project and design the shop drawing. The 3D model will help you to erect easily.
(4) Material supply and fabrication.
(5) supply the client full set of detail construction drawings.
(6) Packing, loading and delivery (as requested)
2-5. What's your General contract terms?
(1)
International Commercial Terms
(Incoterms latest version): usually EXW or FOB, other trade term can be negotiabled.
(2)
Port of loading
: Nansha port or Yantian port or Shekou port. All the ports are in Guangdong Province, China.
(3)
Payment
: Usually T/T 30% advance payment, T/T 70% before shipment, other terms can be negotiabled.
(4)
Average Lead Time
: usually 1-3 months.
2-6. What's your construction services?
(1) All of our clients can enjoy our free detail construction drawings and on-line construction instruction service.
(2) We can sent 1-2 engineers to your site for on-site construction instruction.
(3) We can sent our engineers and skilled workers to your site to assist your contractor to finished the construction work.
Detail please contact us.