Product Description
HYSUN Container House
Hysun flat pack is a type of modular products designed from ISO shipping container and using steel frame and lightweight wall panels system.
Each Hysun flat pack consists of top roof frame, bottom chassis frame, 4 posts and 14 pcs exchangeable wall panels.
Hysun flat pack can be flattened for easy transport. All knocked down a ship in SOC(shipper owned containers).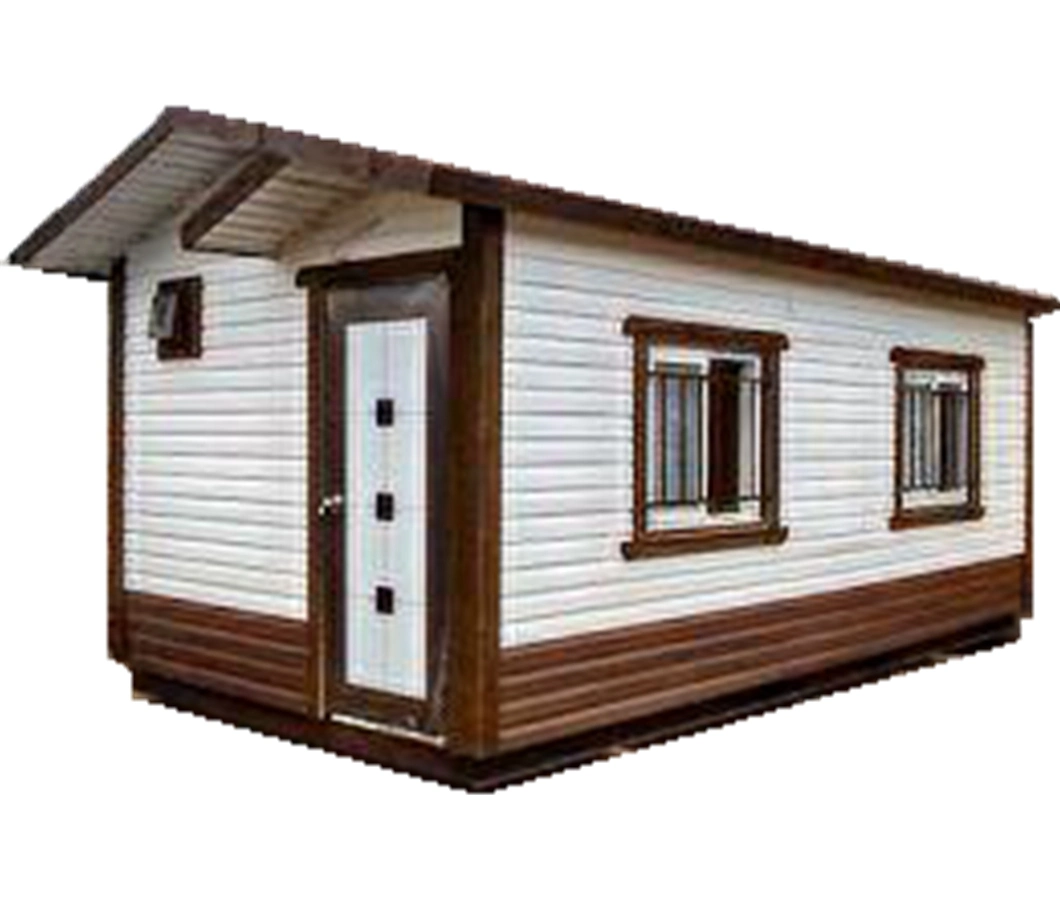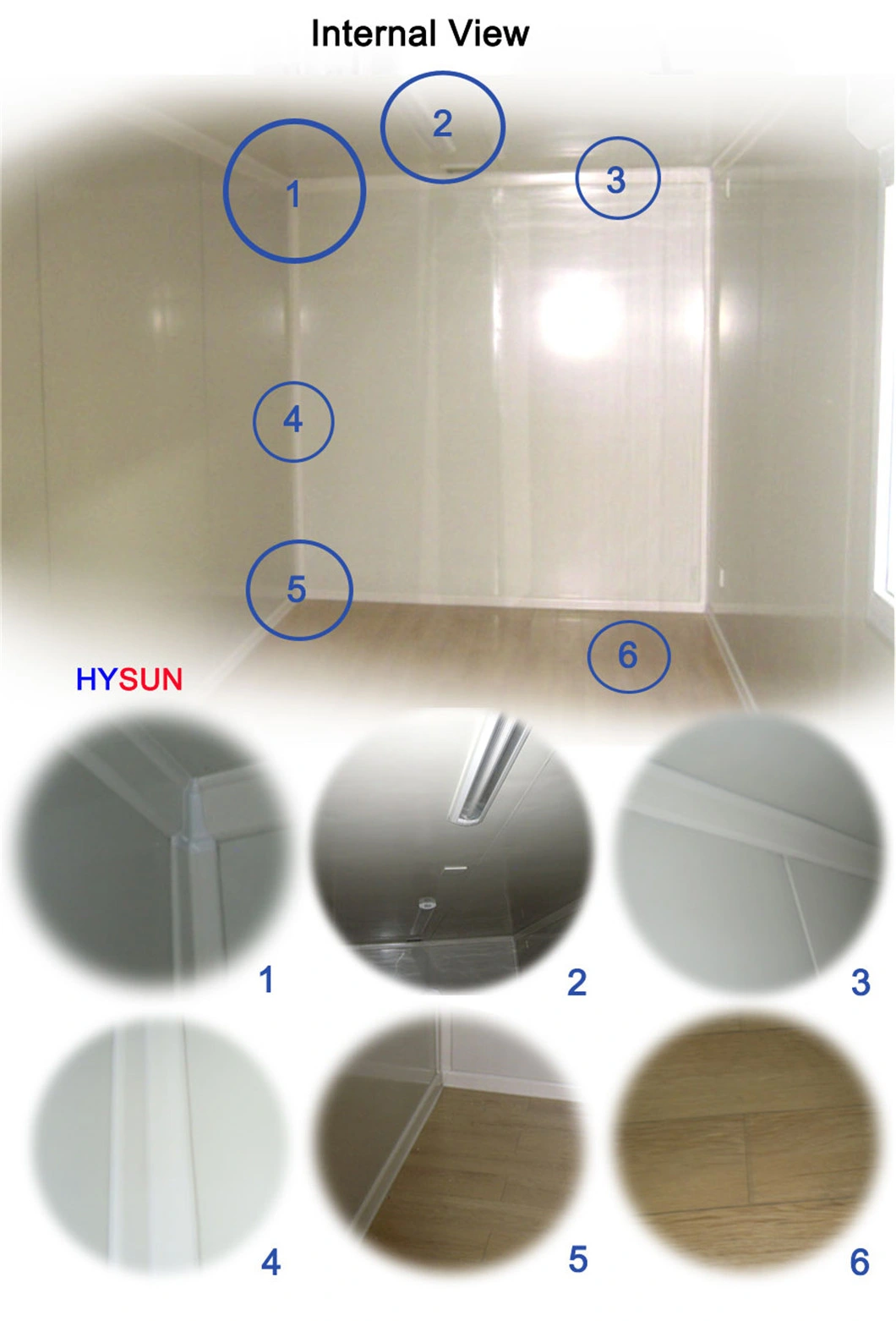 Not only a container house
Hyun also offers the turnkey container house solution.

Item

Name

Description

Structure
Flatpack container

• Cold rolled steel structure with corner casts and forklift pockets 90x256x2050mm

• Available size, 8ft x 10ft, 8ft x 16ft, 8ft x 20ft, 8ft x 24ft, 8ft x 30ft, 10ft x 20ft

Wall Panel
Exterior Cladding
• 0.5mm thick corrugated or flat galvanized coated steel sheet
Insulation

• EPS, rock wool, glass wool

• 60mm, 70mm, 80mm, 100mm

Internal Cladding

Laminated E1 - Emission Valued 9mm thick chipboard;

• 0.5mm thick galvanized and coated color steel sheet.

Floor
Floor Steel frame
• 3mm thick cold rolled & welded steel profiles;
• Insulation Thickness: 100mm mineral wool(on option);
• Subfloor: 0.5mm thick, galvanized steel sheet(on option);
Floor Board
18mm magnesium(water resistant v 100);
Flooring
PVC sheet, ready in factory
Roof
Roof steel frame
• 4mm thick cold rolled & welded steel profiles
Roof Cover
0.5mm thick galvanized sheet & double folded in the roof middle;
Insulation
50-100mm thickness rock wool
Ceiling
9mm chipboard(V20), White(Usual);
50mm 50mm Steel Sandwich panel(Option 1);
Corner Posts
4 sets

3/4mm thick cold rolled & welded steel profiles, Screwed to the floor base frame and roof frame.

Door
External Door
and
Internal Door

• Alu door or Steel Security Door

• Steel frame with triangular wrap-around sealing;

• Right or left hand hinged;
• Inward or outward opening;
• Door blade with galvanized steel sheets on both sides;
• Insulated with honeycomb;
• Regular size: 870*2040mm, 870*1995mm.

Window
Window for room

PVC frame with insulated glazing

• integrated Aluminum roller shutters(on option)
• Color: white;
• Tilt & turn mechanism or sliding;
• Regular size: 800*1100mm.

Window for toilet

PVC frame with insulated glazing
• Color: white;
• Tilt & turn mechanism;
• Regular size: 500*500mm.

Or exhaust fan on option

Electrical

Default: 2* tube light, 1* socket for AC, 2* socket for a charge, 1*switch, 1 distribute box.

Available in CE, AS/NZ, UL.

Plumping system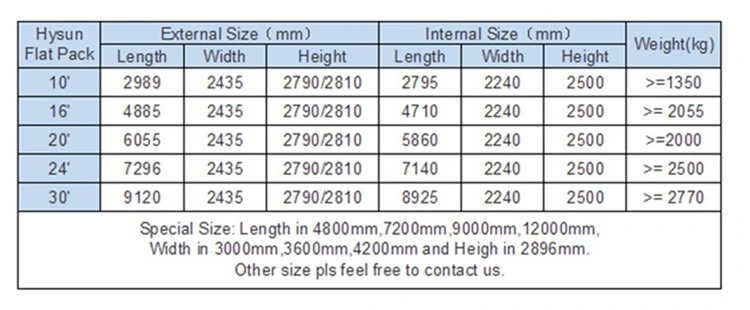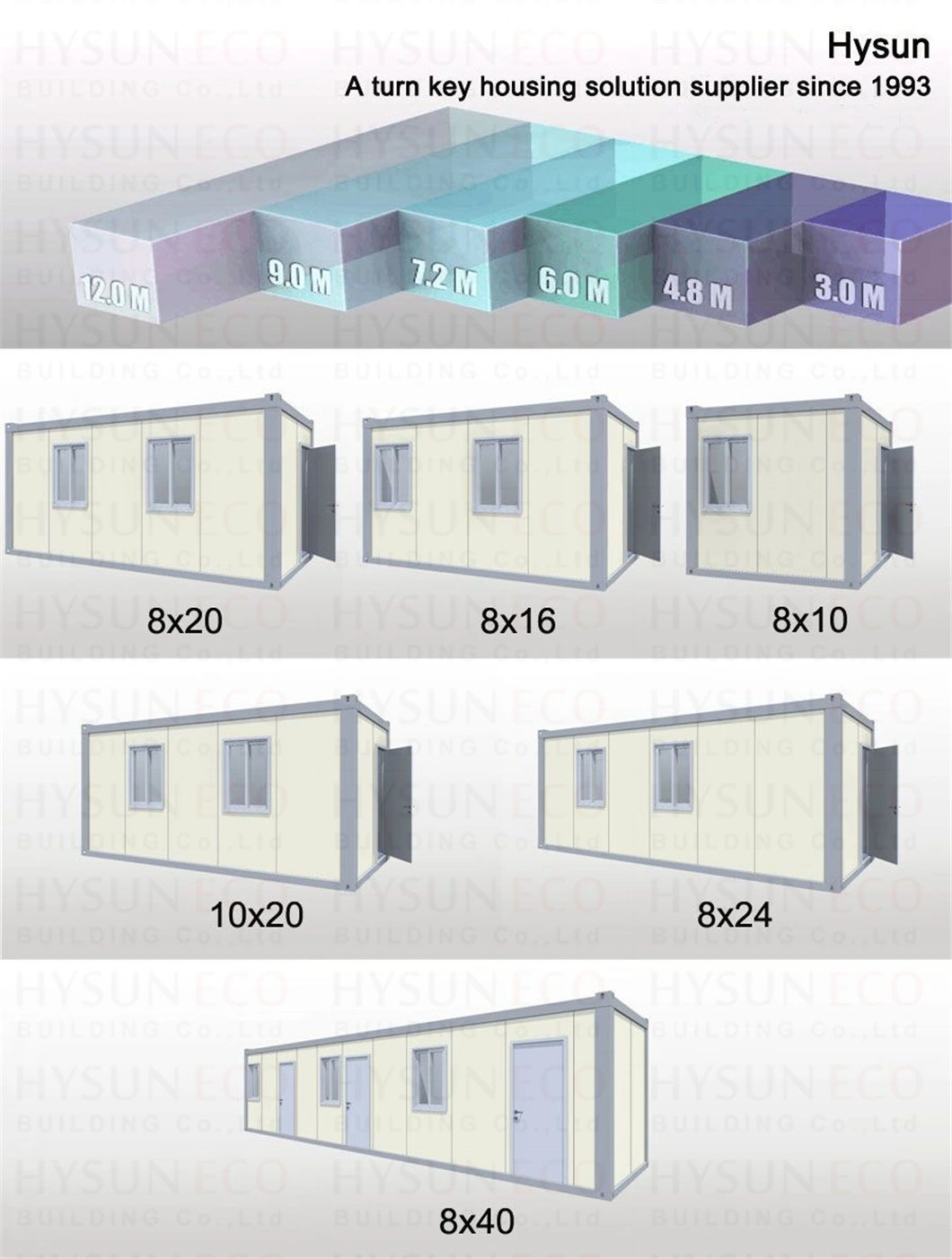 Wide usage of Hysun Falt Pack
Here are Hysun function modular unit, they can use separately or flexible to be combined together in every field.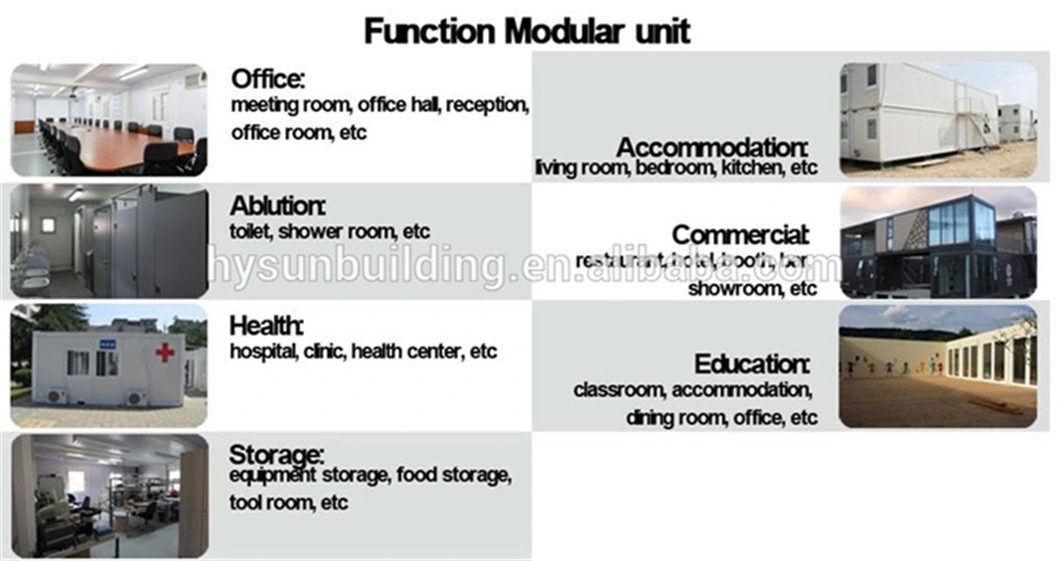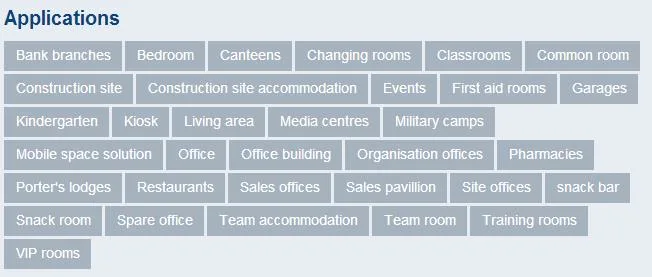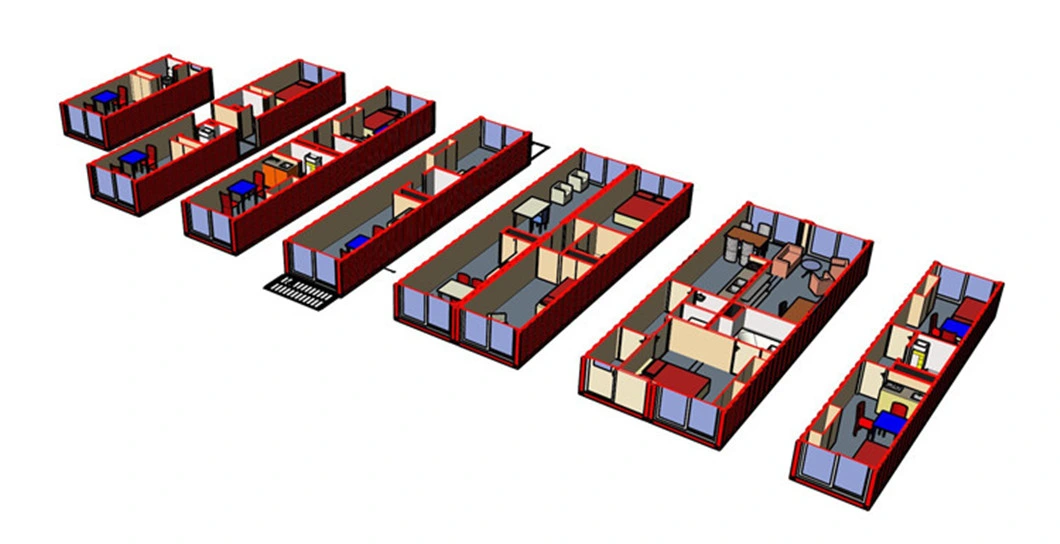 Installation
Simple Tools for Installation
Fast and easy, 4 labor can install a container house in 4 hours

4 steps to make a house with 4 workers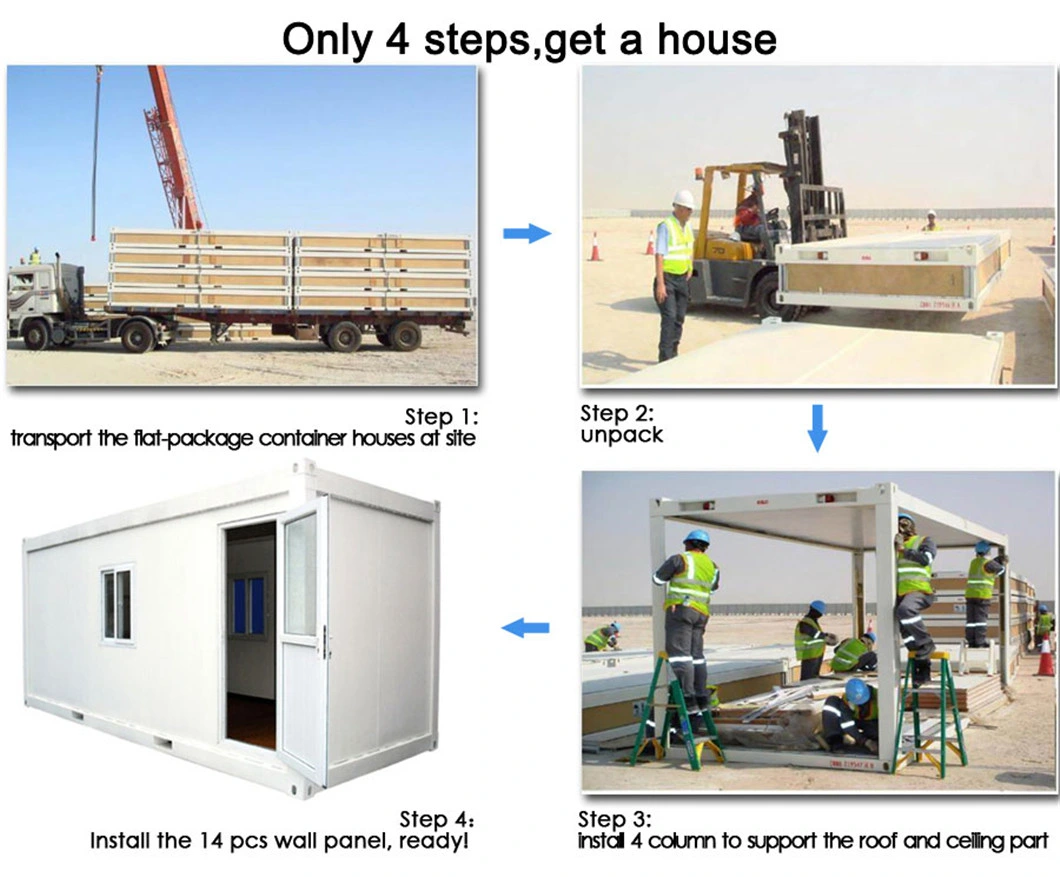 More options
Hysun is a turn key house solution supplier. We also offer below items on option. Pls, feel free to contact us if any interest or any demand.


Soft Reminder:
1. All hysun container houses are available to be customized.
2. The price and package in the list are only for reference and the final price would offer together with drawing and final material. Pls, contact us for detail material list and price.
3. The price is for a standard 20' container unit, not for a container group.
Hysun Service

As a professional manufacturer in the prefabricated house, Hysun provides the following services with professionalism and a great sense of responsibility.
- Customized drawings design
- Competitive quotations
- Professional suggestions for a cost-effective solution
- Project installation instruction or supervision
We also guarantee:
Product Quality
Hysun specializes in designing, manufacturing, processing and installing various steel structure projects since 1993. Also, we were awarded TOP CLASS qualification for steel structure production & contracting. All product should be checked quality from raw material, during production to before load. We make sure every part arrive in your hand are perfect.
On-time Shipment
Hysun also guarantees on-time delivery time under our experienced workers and modern machine under good management.
All steel part and materials shall be packed carefully under full protection.
FAQ
1.Q: Are you a factory or trading company?
A: Hysun ECO building Co., Ltd. is a factory located in Chengdu City, Sichuan province.
2. Q: What's your supply capacity?
A: we have various steel structure product, and annual Production for referring: container house 3000sets, prefab house 10,000square meters; steel structure 80,000 tons.
4.Q: Could you please design a new and unique prefab house for me?
A: Absolutely! We are able to provide you with not only construction scheme and structural drawings, but landscape design! Besides, detailed drawings and 3D models are surely included. One-stop service is our outstanding superiority with no doubt.

5.Q: What should I provide to build a steel prefab house?
A: So easy! Sketch drawing would be a better reference for us. However, you will never mind if you don't have any. Simply notify us of your requirements, such as the area, usage and the stories of the house. Before long, you'll possess an amazing design.

6.Q: How could I ensure the cost of building a steel prefab house?
A: Firstly, the designing scheme should be accepted. Then, the kinds of building materials should be confirmed since different types and qualities make various prices. After that, we will send you a detailed quotation.

7.Q: How Long does it take to build a prefab container house?
A: It depends on the size of the house. Generally, the construction period is a 1 container house by a construction team of 4 people. It only costs 4 hours to build a container house.

8.Q: Is it difficult to build a prefab house?
A: totally not, you can build the house independently according to the construction drawings as long as you know how to use an electric tool. Or I can provide a video show you how to fast install a house.

9.Q: Does this kind of house can only be used in a residential building?
A: Absolutely not. It can be used in all kinds of buildings, such as hotel, commercial office, school, entertainment club, light industrial workshop, etc.
10. Q: How long is your delivery time?
A: Generally it is within 15-30 days after getting the deposit and final drawing, definitely according to quantity and house style.
11.Q: Can I ask for the toilet, kitchen, decoration, solar heater and so on.
A: Absolutely! We are turnkey house solution supplier, we have an engineer to design the one stop house also reliable suppliers for those fittings.

12. Q: How can I get the quotation for the project?
A: If you have drawn, we can offer you our quotation according to your drawing. If you have no design, Our engineer makes your idea to a real house and will design some drawings for you to confirm. And then offer you a quotation under your material demand and drawing.
Pls, feel free to contact us for any question.